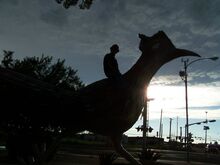 Sex: Male
Looking For: Friendship, Networking, Anime
Current City: Houston, TX
Hometown: Chicago, Illinois
Best I can do here is "jack-of-all-trades". I'm a corrosive philosopher, a poor man's musician with a band, storyteller, researcher, wannabe psychologist, studier of physiognomy, anime (lots of anime....), and a lot more. Best bet, just strike up a conversation with me.
Facebook: http://www.facebook.com/profile.php?id=628320562
AIM: blueangelsoldier
Y! IM: xelos_epsilon
Mobile: Upon Request
My favorite Wiki
Edit
Web Comics
Edit
Hellsing \ Hellsing Ultimate
Fullmetal Alchemist \ FA: Brotherhood
When They Cry
Ergo Proxy
Trigun
Cowboy Bebop
just ask...
Community content is available under
CC-BY-SA
unless otherwise noted.